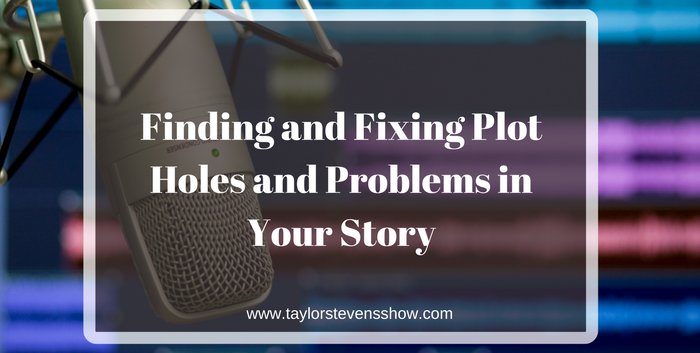 Podcast: Play in new window | Download
Subscribe: RSS
Getting through that middle, making it all make sense, getting to where it all holds together, THAT is hard. And that is where so many people stumble and fall.
— Taylor
This week's show opens with one of my favorite show beginnings ever, thanks to a listener who took the time to use our words from TSS072, How Important is the Title to the Success of Your Book, and put them together as book titles.  We spend the first few minutes of the show laughing our way through those and offer our sincere thanks to David for the amazing creativity it took to put the titles together.
Our topic this week is started out as finding and fixing plot holes, but quickly evolved into a lesson on fixing story problems.  Things that crop up from poorly understood character motivations, timelines and in a specific example, an antagonist that isn't quite bad enough to drive a story.
In our call to action, Taylor wants to know how you define plot holes or plot problems?  If you have a definition please let us know in either the comments or by calling the hotline (check the connect button above for the number.)
Thanks so much for joining us again this week.
If you have questions or suggestions for future shows, we'd love to hear from you. You can leave your suggestions as comments or find our contact information, including our Hotline Number for listener question on the Connect page.
If you enjoyed this episode, please share it using the social media buttons you see on the left of the post.
Also, please leave an honest review for THE TAYLOR STEVENS SHOW Podcast on iTunes!
Ratings and reviews are extremely helpful and mean a great deal to us. They matter in the rankings of the show, and we read every one of them.
And finally, don't forget to subscribe to the show on iTunes, Google Play, or Stitcher to get automatic updates.