The Taylor Stevens Show is a weekly podcast providing information and inspiration on writing, publishing, craft, mindset, productivity and making the most of your writing life. New York Times bestselling author Taylor Stevens and indie author Stephen Campbell team up each Tuesday to help you kick your writing in the butt one word at a time.
Taylor Stevens
The Third Person Punchy Version:
TAYLOR STEVENS is the award-winning, New York Times bestselling author of the critically acclaimed Vanessa Michael Munroe series. Published in over twenty languages and optioned for film by James Cameron's production company, Lightstorm Entertainment, the books are international boots-on-the-ground thrillers featuring a mercenary information hunter in a non-testosterone mix of Jason Bourne and Jack Reacher. Stevens came to writing fiction late. Born into an apocalyptic cult and raised in communes across the globe, she was denied an education beyond 6th grade and spent her adolescence as child labor. Stevens now calls Dallas home. In addition to writing novels, she shares extensively about the mechanics of storytelling, writing, overcoming adversity, and her journey into publishing at www.taylorstevensbooks.com/connect.php – she welcomes you to join her.
The First Person Wordy Version:
In an alternate universe, I spent my formative years living with parents and siblings, showing up for school and getting acquainted with HBO, Michael Jackson, neon clothes and big hair. In reality, childhood and adolescence were spent begging on city streets from Zurich to Tokyo, preparing food and washing laundry for hundreds of people, and otherwise trying to survive dreary life as a worker bee child in a communal apocalyptic cult. My innocence and scholastic education stopped completely when I was twelve-years-old.
Cut off from personal family, at times under the care of sadistic individuals and without access to books or television from the outside world, imagination became a survival mechanism. As a young teenager, I secretly entertained commune children with fantastic stories that took us through time and space, until these sins were discovered by cult leaders. Several laboriously hand-written books were confiscated and burned and I was ordered on pain of–well, a whole lot of pain–never to write fiction again.
The nomadic culture of the cult became an adolescent's journey across four continents and nearly two dozen countries culminating in four years living in East and West-Central Africa–this the primary setting for THE INFORMATIONIST.
I was in my twenties when I broke free, and leaving everything I knew brought with the fear, a fresh beginning. Refusing to go to my grave with regrets, "what ifs," or tears over the lost years, I set out to take back what was taken from me. Through trial and error and observing the masters I taught myself the craft, and gradually the gift of storytelling returned. Learning basics that many take for granted has been a journey to be sure, but on the flip side, if I ever need to make breakfast for 150 people, I've already got that covered.
Stephen Campbell
The First Person Wordy Version
Stephen Campbell, that's me, was born and raised in Ohio. After two blizzards in a single winter, I decided enough was enough and moved to Florida to pursue my dream of becoming Travis McGee.
While failing miserably at living the life of a boat bum doing favors for friends I did manage to graduate from the University of South Florida and almost accidentally find my way into the computer software business. I worked for a guy who was a business savant, learned what I could, then struck out on my own in the mid-1990s.
That was about the time I met the love of my life, we got married, raised a family and did the work, soccer, karate, football, baseball, basketball, gymnastics things you do during those years. Then the kids left, and we decided to simplify our lives and begin focusing on the things we've always wanted to do. That included spending more time skiing, increasing our volunteer time and . . .
Writing a book. It was something I'd always wanted to do but had never allowed myself to consider. Everyone that loves to read, and I really love to read, thinks they can write, right? So I threw myself into the idea of writing something that would be good enough to publish. I started and realized I didn't have a clue what I was doing. Reading does not translate to writing, at least for me.
So, classes, education, learning, reading books on craft, practice, practice, practice. Write a complete novel, type THE END and realize you've made every single mistake all beginning writers make. Try again. Connect with smart people like Taylor, figure out how to convince her to do a podcast and learn from a writing here.
It's the endless circle of learning, doing and sharing that I find so enjoyable about the writing life, which is why I love doing this podcast with Taylor. By the way, my first book, a collection of Short Stories called FOUR SEASONS OF RENO HART is now available.
The Podcast
How the show came to be, by Taylor Stevens.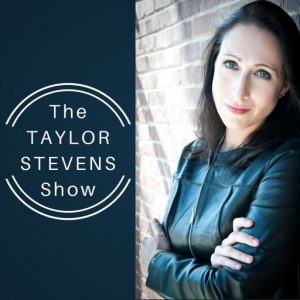 It started something like this: One day, my good friend Steve Campbell of The Author Biz and Crime Fiction FM said, "Hey, do you wanna do a podcast?"
I'd done a few interviews on Steve's shows and I had a book coming out in a few months, so by podcast I thought he meant as one of his guests. I said, "Sure, when do you want to record?"
He said, "Well, anytime is good, but what I mean is, do you want to do your own podcast, like a show, your own show? If you were going to start one, this would be a great time since you have a book on the way."
On my end there was a long moment of groaning silence. Steve is real patient with me like that. I said, "It's a great idea in theory, but this is me we're talking about. We both know that even if I say yes, if I have to figure this out I'll maybe get around to doing it in, oh, never."
"I've already got the technical stuff down," he said. "I'll even record you and help you put your episodes together and get them uploaded."
I thought about it. I'd done plenty of interviews and they'd always been fun because all I had to do was answer questions. I love answering questions. Answering questions means someone else has to do the hard work of thinking up the interesting stuff and I just show up and fill in the blanks. But me in front of a microphone talking to empty space and fighting against verbal writer's block? That would be as much fun as chewing rocks. Even with the technical help I'd still procrastinate the crap out it. I said, "Well, would you do the episodes with me? You know, interview style like if I was a guest? Question and answer back and forth, that type of thing?"
"If that's what you wanted."
"Yes, please."
And that's how this podcast was born. We started with inside details about the research that went into THE MASK and how that book compared to the others in the Vanessa Michael Munroe series. We never really had a format, or even an official title, and everything we did was off the cuff and unscripted but it was a lot of fun. I hope that as you follow along its fun for you, too.
If you have an iTunes account, you can subscribe to the podcast here. (If you enjoy the show we'd really appreciate if you took the time to give us a rating and a few word review as that allows other potential listeners to find us).
New episodes go up on Tuesdays. For listeners that don't have podcast accounts, we upload the individual episode on this site.