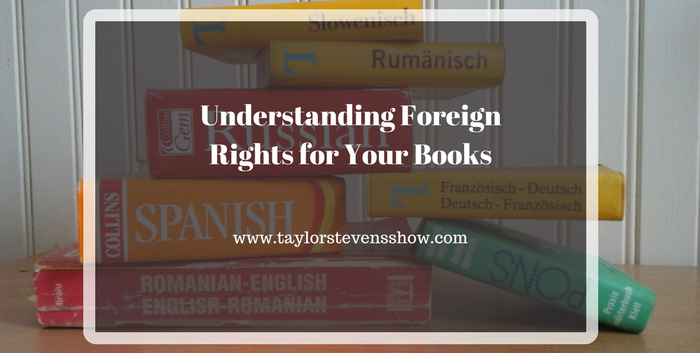 Podcast: Play in new window | Download
Subscribe: RSS
This week's show is part three of what will be a three-part series on intellectual property rights and how managing those rights correctly can make a HUGE difference in your career as an author.
Taylor covers the foreign rights this week and includes some important information for you to consider when signing a publishing deal.
In the chit-chat portion of the show we discuss a blog post on Lori Puma's site, These 33 Podcasts Will Help You Write, Publish, and Promote Your First Novel in 2018.
She was kind enough to mention our show, but she also mentions a number of other shows that our listeners would find interesting. Give some of these shows a try and let us know if you find some additional favorites.
Thanks so much for joining us again this week!
If you have questions or suggestions for future shows, we'd love to hear from you. You can leave your suggestions as comments or find our contact information, including our Hotline Number for listener question on the Connect page.
Please consider supporting Taylor on Patreon for Patron only teaching and information.
You may also wish to join us in the Taylor Stevens Fan Club on Facebook.
If you enjoyed this episode, please share it using the social media buttons you see on the left of the post.
Also, please leave an honest review for THE TAYLOR STEVENS SHOW Podcast on iTunes!
Ratings and reviews are extremely helpful and mean a great deal to us. They matter in the rankings of the show, and we read every one of them.
And finally, don't forget to subscribe to the show on iTunes, Google Play, or Stitcher to get automatic updates.