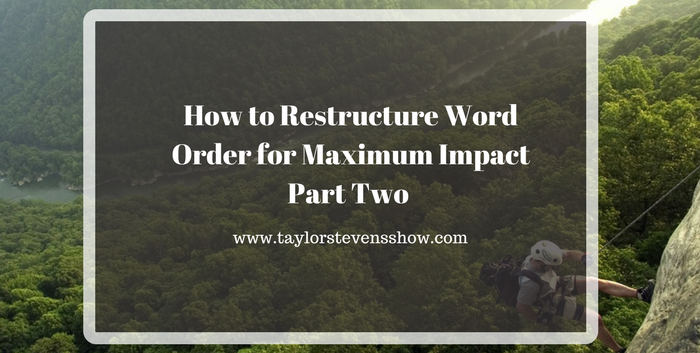 Podcast: Play in new window | Download
Subscribe: RSS
This week's show is part two of a Hack the Craft series on the importance of word order to your to maximizing the impact of your stories.
The material covers roughly 1200 words and is taken from within chapter 5 of a contemporary romance.
In this scene, the main character experiences a panic attack during a grappling session while at judo practice. The author's biggest concerns were avoiding cliches and making sure the character's actions and reactions didn't create confusion.
In this series our primary focus is on:
How to spot out-of-order character movements.
How to reorder elements within a sentence or paragraph for clarity and emotional impact.
How to avoid feeling words.
How to avoid vagueness.
The issue with "ing" words and the "Don't Start a Sentence with a Gerund" rule.
Why and how it's okay to break that rule.
How to utilize thought -> action -> speech within multiple paragraphs.
How paragraph breaks and white space can become one of your most powerful writing tools.
We recorded this as one as video as well. If you want to watch as Taylor works through the material, you'll find the video on Taylor's Patreon Page after she has it posted.
You can also download a copy of the document Taylor worked from this week.
Thanks so much for joining us again this week!
If you have questions or suggestions for future shows, we'd love to hear from you. You can leave your suggestions as comments or find our contact information, including our Hotline Number for listener question on the Connect page.
Please consider supporting Taylor on Patreon for Patron only teaching and information.
You may also wish to join us in the Taylor Stevens Fan Club on Facebook.
If you enjoyed this episode, please share it using the social media buttons you see on the left of the post.
Also, please leave an honest review for THE TAYLOR STEVENS SHOW Podcast on iTunes!
Ratings and reviews are extremely helpful and mean a great deal to us. They matter in the rankings of the show, and we read every one of them.
And finally, don't forget to subscribe to the show on iTunes, Google Play, or Stitcher to get automatic updates.