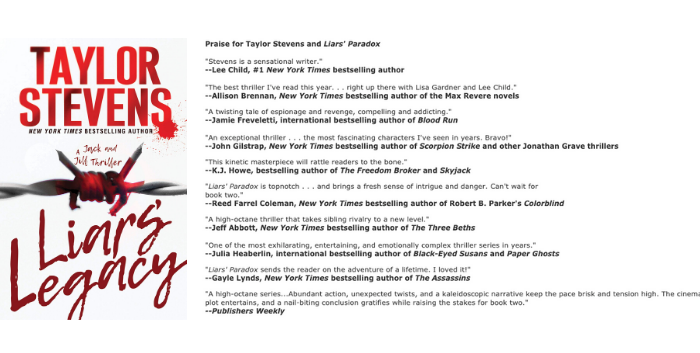 Podcast: Play in new window | Download
Subscribe: RSS
In this week's episode, we (finally) have the opportunity to have an in-depth discussion of Taylor's new book, Liars' Legacy. We discuss the characters, the complexity of the story, and the challenges that complexity brought to the writing of the book. We also discuss favorite characters for each book, and the addition of a major new character in book two.
Autographed copies of Liar's Legacy will be available at Interabang Books in Dallas, and they can also be ordered online. You can find contact information for Interabang books here:
https://www.interabangbooks.com/
Or, you can pick up your copy of Liars' Legacy at your favorite physical or online bookstore. Here's a link for online purchases:
https://books2read.com/liarslegacy
Thanks so much for joining us again this week!
If you have questions or suggestions for future shows, we'd love to hear from you. You can leave your suggestions as comments or find our contact information on the Connect page.
Please consider supporting Taylor on Patreon for Patreon only teaching and information.
You may also wish to join us in the Taylor Stevens Fan Club on Facebook.
If you enjoyed this episode, please share it using the social media buttons you see on the left of the post.
Also, please leave an honest review for THE TAYLOR STEVENS SHOW Podcast on iTunes!
Ratings and reviews are extremely helpful and mean a great deal to us. They matter in the rankings of the show, and we read every one of them.
And finally, don't forget to subscribe to the show on iTunes, Google Play, or Stitcher to get automatic updates.