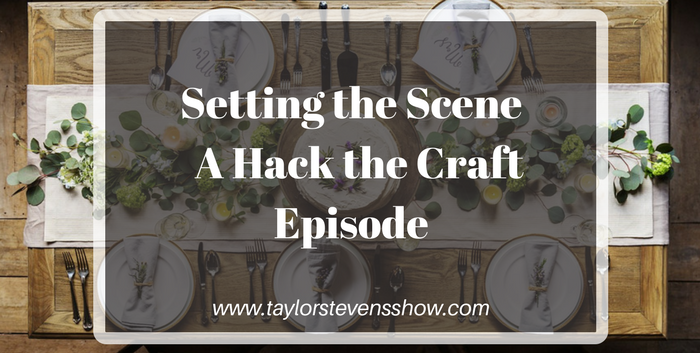 Podcast: Play in new window | Download
Subscribe: RSS
In this week's episode, the second of a two-part series, we introduce 6 key questions to use as a guide when writing a scene.  These questions are:
~~ Whose eyes are we seeing this from?
~~ Where are we?
~~ Who are the characters?
~~ What is the conflict?
~~ What are the key points this scene must convey?
~~ What is the character doing?
We then revisit the original material, introduce the author's second version, and run both through these questions. We use the answers as a foundation to rewrite the sequence. Through this rewrite process we learn:
~~ Why getting character in motion is critical to story movement.
~~ Why character in motion is critical to depth of character.
~~ Why character in motion is the basis for good description.
~~ Why character in motion is what creates a vivid sense of place.
~~ Why we cannot have character in motion without place, and cannot have place without character in motion.
~~ How to use one to build the other.
~~ How this automatically resolves big picture issues such naval gazing and misordered visual elements.
This show is also available in video and can be seen on Taylor's Patreon page here.
Thanks so much for joining us again this week!
If you have questions or suggestions for future shows, we'd love to hear from you. You can leave your suggestions as comments or find our contact information, including our Hotline Number for listener question on the Connect page.
Please consider supporting Taylor on Patreon for Patron only teaching and information.
You may also wish to join us in the Taylor Stevens Fan Club on Facebook.
If you enjoyed this episode, please share it using the social media buttons you see on the left of the post.
Also, please leave an honest review for THE TAYLOR STEVENS SHOW Podcast on iTunes!
Ratings and reviews are extremely helpful and mean a great deal to us. They matter in the rankings of the show, and we read every one of them.
And finally, don't forget to subscribe to the show on iTunes, Google Play, or Stitcher to get automatic updates.