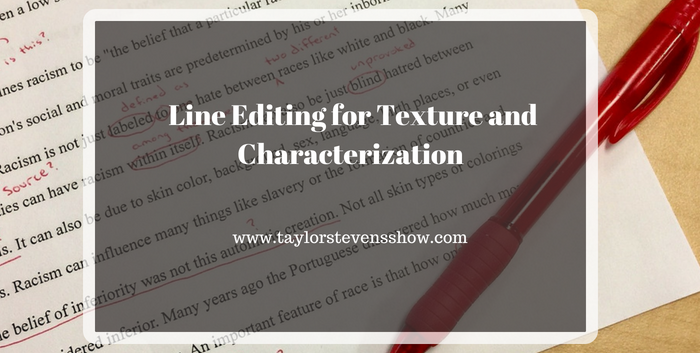 Podcast: Play in new window | Download
Subscribe: RSS
This is part 4 of a 5 part series in which, at the author's request, we go through the process of converting a first-person present tense piece to third person past tense.  In this episode, Taylor begins the line edits.
In this tutorial we begin the line editing process where we learn:  
How to rewrite to avoid overusing pronouns.
How to rewrite to keep key concepts close together for impact.
How to organize information within a paragraph to eliminate unnecessary words.
Where extra information needs to get added to allow the story flow to make sense.
How small textural details and characterization can create instant depth that will draw the reader in.
How and where to include those types of details.
How to avoid a character inadvertently coming across as cold or selfish with humanizing touches.
Due to the length of the material we were only able to complete half of the line edit in this episode. The next episode will see us to the finish line. 
If you've found this tutorial helpful, please feel free to share the link with other authors and writers who might benefit.
This show is also available in video and can be seen on Taylor's Patreon page here.
Thanks so much for joining us again this week!
If you have questions or suggestions for future shows, we'd love to hear from you. You can leave your suggestions as comments or find our contact information, including our Hotline Number for listener question on the Connect page.
Please consider supporting Taylor on Patreon for Patron only teaching and information.
You may also wish to join us in the Taylor Stevens Fan Club on Facebook.
If you enjoyed this episode, please share it using the social media buttons you see on the left of the post.
Also, please leave an honest review for THE TAYLOR STEVENS SHOW Podcast on iTunes!
Ratings and reviews are extremely helpful and mean a great deal to us. They matter in the rankings of the show, and we read every one of them.
And finally, don't forget to subscribe to the show on iTunes, Google Play, or Stitcher to get automatic updates.