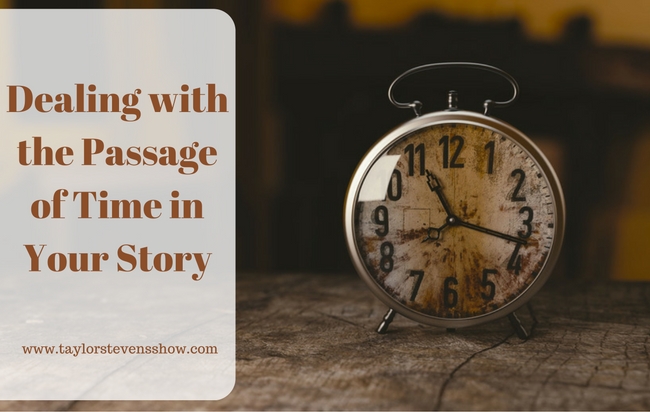 Podcast: Play in new window | Download
Subscribe: RSS
You don't want to be boring. If you can find a way to fit something in, in such a way that it's not boring, then you can break a lot of rules … You can do whatever you want. IF it's not boring.  — Taylor
This week's show comes courtesy of a telephone question from Jill, who asks Taylor's advice for dealing with the passage of time in storytelling. She used the specific examples of meal time and car rides, both of which we consider. Thanks, Jill for delivering an entire show worth of content in your single question!
A problem that many new writers have to learn to deal with are the various ways in which time can pass in a story. Many of us feel compelled to include far too much detail when explaining the passage of time. Taylor shares examples of how to avoid those mistakes using the specific transitional examples of scene cuts and scene changes.
Then we get into some good and bad examples of people eating together in fiction. In Jill's question, she refers to two individuals finishing a meal before talking about what they came together to discuss. As she put it, "Who does that?"
A meal is a perfect example of something that can serve multiple purposes in a book. We discuss techniques for making mealtime work for character development and for keeping readers informed about what's happening in the story. Among the things Taylor likes about using meals as settings are the different action beats writers can use to display emotion that aren't available in other settings.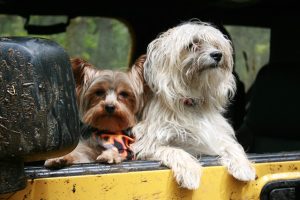 When we move to car travel we use Taylor's award-winning thriller, THE DOLL as an example. In that book, there are stretches of conversation and silence in a car between Munroe and a kidnapped young woman.  Taylor wrote the scenes to allow character development to flow through conversation and action, each of which create tension to drive the story forward.
This week's show begins with a discussion of Taylor's new kitten and her story of the cat clawing its way into the hearts of she and her kids. Somehow collars, ringing bells, and kittie treats work their way into this mysterious tale and by the end, we're not sure who was training whom.
Here are some pictures of the kitten from early days to her current age of five months old.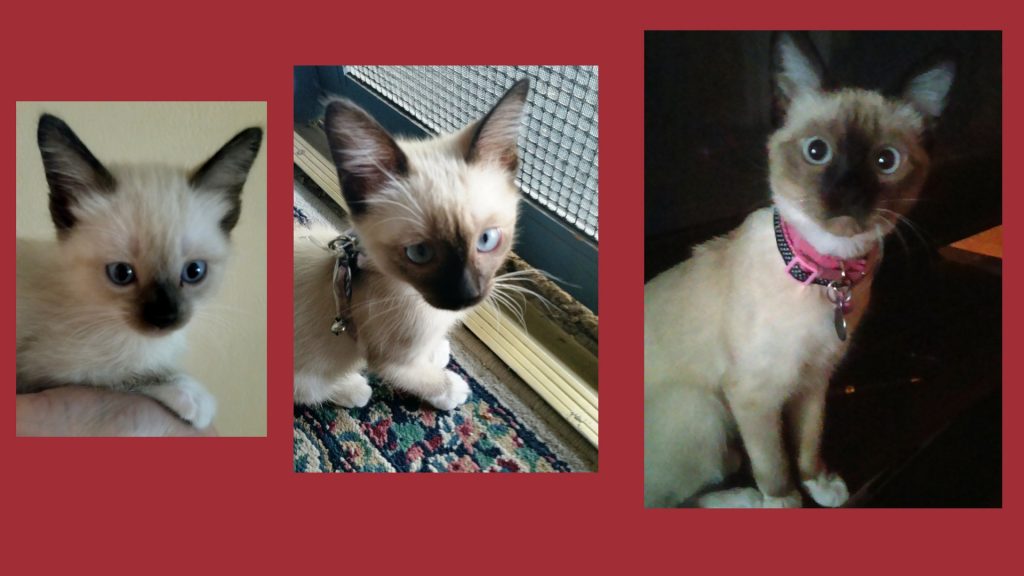 Thanks so much for joining us again this week.
If you have questions or suggestions for future shows, we'd love to hear from you. You can leave your suggestions as comments or find our contact information, including our Hotline Number for listener question on the Connect page.
If you enjoyed this episode, please share it using the social media buttons you see on the left of the post.
Also, please leave an honest review for THE TAYLOR STEVENS SHOW Podcast on iTunes!
Ratings and reviews are extremely helpful and mean a great deal to us. They matter in the rankings of the show, and we read every one of them.
And finally, don't forget to subscribe to the show on iTunes or Stitcher to get automatic updates.
Creative Commons Images by Monoar and Seadog