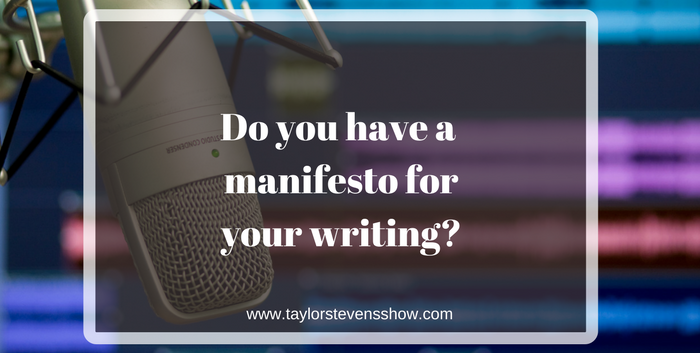 Podcast: Play in new window | Download
Subscribe: RSS
I won't do that to my readers, the cheap, easy way out. Everything has to make sense, everything has to tie together, everything has to have an emotional component and impact because that is what makes a book captivating.
— Taylor
In this week's show, Taylor responds to a great question from author C.A. Newsome, who shares her own writing manifesto and asks if Taylor might have one as well.  Taylor does not have a written manifesto, but she shares some thoughts on what it might look like if she did have one.
Here's Carol's original question, which includes the components of her own manifesto:
An earlier thread about JD Robb called to mind the decisions I made about what I wanted my books to be when I started writing. I never formalized it, but I do have a mental manifesto. Like I will make an ordinary nice guy a more satisfying leading man than a billionaire alpha male, I will not rely on magical fixes (such as ever so convenient informants) to move my plots along – etc.
I'd love for Taylor to share her manifesto. What are you dedicated to putting before the reading public?
Thanks to Carol for the question, and to you for joining us again this week!
If you have questions or suggestions for future shows, we'd love to hear from you. You can leave your suggestions as comments or find our contact information, including our Hotline Number for listener question on the Connect page.
If you want more from Taylor, join us in the Taylor Stevens Fan Club on Facebook.
If you enjoyed this episode, please share it using the social media buttons you see on the left of the post.
Also, please leave an honest review for THE TAYLOR STEVENS SHOW Podcast on iTunes!
Ratings and reviews are extremely helpful and mean a great deal to us. They matter in the rankings of the show, and we read every one of them.
And finally, don't forget to subscribe to the show on iTunes, Google Play, or Stitcher to get automatic updates.